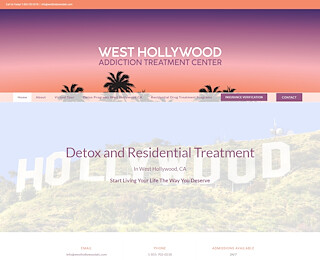 West Hollywood Addiction Treatment Center is a high-end inpatient alcohol rehab in West Hollywood with unsurpassed medical detox and residential programs. We use a combination of evidence-based rehab programs and holistic treatments to help recovering addicts adapt critical coping skills and help them cope with past trauma.
Statistics on recovery from rehab vs. trying on one's own
Several studies vouch that seeking rehab treatment can be more beneficial than dealing with addiction on one's own efforts. One study reports that close to 76% of addicts who seek treatment from an alcohol rehab center continue to maintain sobriety even after three months or more of discharge from an inpatient facility.
A whopping 85% of recovering addicts continued to maintain their sobriety even nine months after the completion of inpatient rehab. Over 80% of patients reported improved quality of life and better health after the rehab treatment. Alternatively, trying on your own has a dramatically-low success rate and the highest relapse percentage.
Treatment for alcoholism
Our Hollywood drug rehab and treatment facility guides a recovering addict through a safe medical detox procedure and engages them in counseling and therapy programs to identify the root cause of their addiction. The steps involved in our heroin addiction treatment include:
Detoxification – We offer the best treatment for heroin addiction which begins with medically-assisted detox. We use a series of medications to eliminate the toxins from your system and reduce cravings and withdrawal symptoms. 
Counseling – Our licensed therapists will sit down with you both in private and group settings to understand your challenges and your addiction's underlying causes.
Evidence-based and holistic therapies – Our team of mental health experts then uses psychotherapies like cognitive behavioral therapy, dialectical behavioral therapy, biofeedback, EMDR, etc., in conjunction with experiential therapies like yoga, meditation, music, and art therapy. These therapies equip recovering addicts with critical coping skills to manage triggers, stressful situations, and cravings in the long-term.
Ranked among the top Hollywood drug rehab and nearby alcohol rehabs, we also conduct 12-step meetings and support groups to foster sober fellowship amongst the residents and help them recover with peer support. Our customized alcohol treatment process prepares patients for long-term success with sobriety and enables them to attain improved mental wellness.
Dangers of detoxing alone
Detoxing from drugs cold-turkey or without medical supervision can be dangerous, especially for long-term alcohol abusers. Some of the severe side-effects experienced by individuals recovering from alcohol addiction include:
Seizures
Anxiety
Aspiration pneumonia
Heart arrhythmias
Insomnia
Headache
Kidney dysfunction
Fever
Depression and hallucinations
Intense cravings and extreme nausea
You must seek medical attention for alcohol detox from a reputed West Hollywood drug rehabilitation center to prevent adverse side effects. Also, trying to detox alone may prove ineffective as you may not know the right medications to use and in what dosages.
Contact West Hollywood Addiction Treatment Center at 855-969-9234 for a free consultation. We are a leading inpatient alcohol rehab in West Hollywood with state-of-the-art amenities and the best detox programs. Our clinical team possesses years of experience and the highest level of training to offer unsurpassed addiction treatment and care.
West Hollywood ATC
855-622-6723
9024 Harratt St.
West Hollywood CA 90069 US